Interview of the Director of Dipos on the behalf of marking six decades of existence of the Diplomatic Colony in Dedinje
On the occasion of marking six decades of existence of the Diplomatic Colony in Dedinje, in whose portfolio this Colony is,  the director of the Property management and rental company "Dipos" d.o.o. Belgrade, Mr. Đoko Krivokapić,  in the interview with "Večernji novosti", presented this green urban oasis, as well as the achieved business results of Dipos, which, despite the difficult work due to the Covid 19 virus pandemic, are significantly enlarged.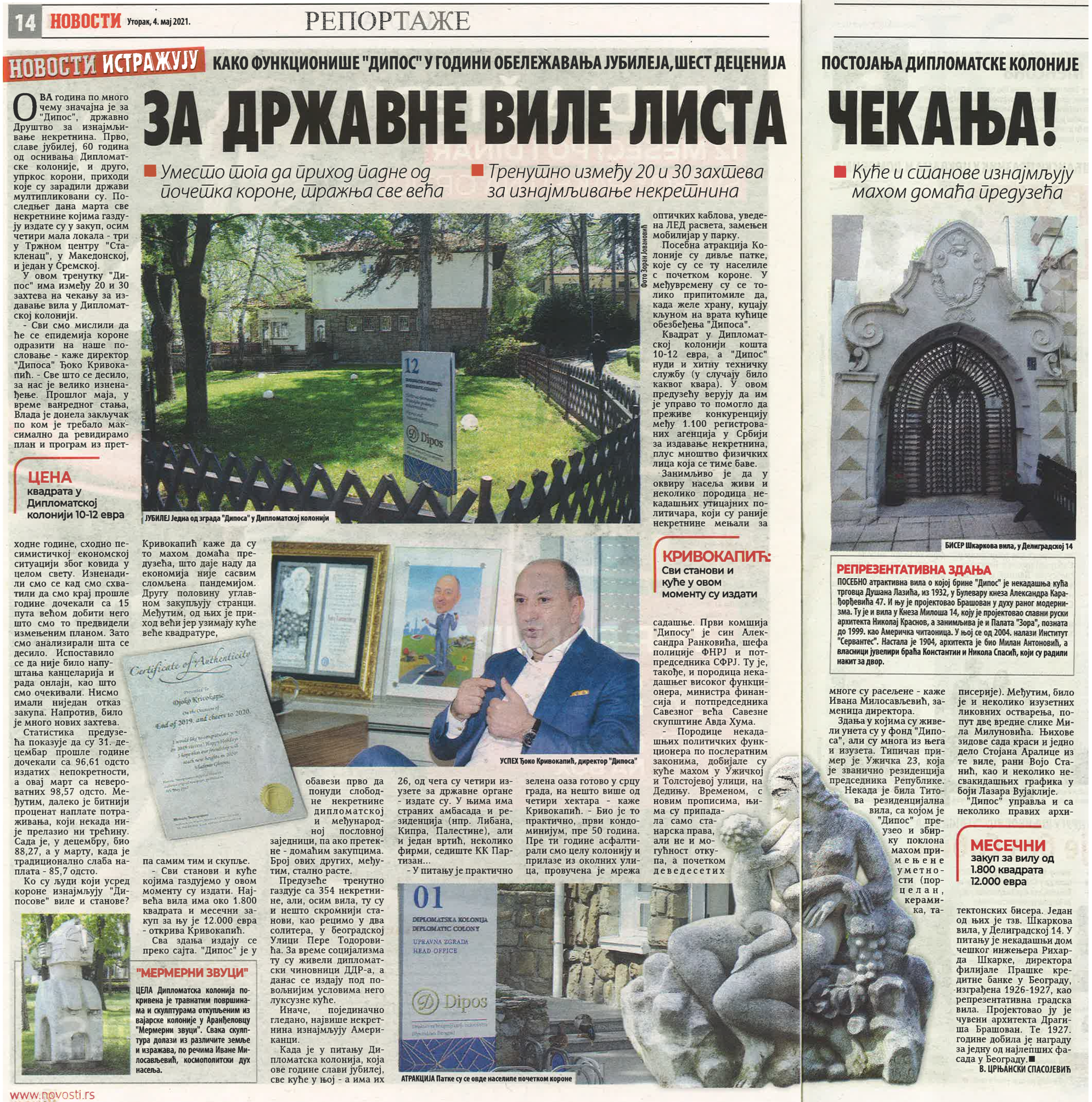 In a statement for "Večernje novosti", the director of Property management and rental company "Dipos" d.o.o. Belgrade, Mr. Djoko Krivokapic pointed out that all the villas managed by Dipos have been leased, even the largest and most expensive one for which the rent is 12,000 euros per month, and added that Dipos, which manages 354 properties, currently has between 20 and 30 requests on the waiting list. "We all thought that the corona epidemic would affect our business," Krivokapic told the daily Vecernje Novosti, adding that everyone was surprised to learn that we had reached the end of last year with 15 times more profit than we had anticipated with the amended business plan.
Director of  "Dipos" d.o.o. Belgrade, Mr. Krivokapić pointed out that all real estate was leased out except for four small business spaces – three in the shopping center "Staklenac", in Makedonska, and one in Sremska. "Company statistics show that they welcomed December 31 with 96.61 percent of leased real estate, and this March with an incredible 98.57 percent. However, the percentage of collection of receivables is far more important, which used not to exceed one third. "In December, it was 88.27, and in March, when the collection is traditionally weak – 85.7 percent," he said. Krivokapic says that Dipos' real estate was mostly rented by domestic companies, which, as he estimates, gives hope that the economy is not completely broken by the pandemic.
The other half is mostly rented by foreigners – mostly Americans. However, the income from them is higher because they take houses of larger size, and therefore more expensive ones. "All the apartments and houses we manage at this moment have been rented out. The largest villa has about 1,800 square meters and the monthly rent for it is 12,000 euros. We did not have any lease cancellations. On the contrary, there were many new requests ", said Krivokapić for Večernje novosti and pointed out that all buildings are rented out through the website. Dipos is obliged to first offer free real estate to the diplomatic and international business community, and if there are real estate in which the diplomatic community is not interested in – they are rented to domestic clients. The number of domestic tenants is constantly growing.
Property management and rental company "Dipos" d.o.o. this year is marking the 60th anniversary of the founding of the Diplomatic Colony. A m2 in the Diplomatic Colony, which has 26 houses, costs 10-12 euros, "Dipos" also offers an emergency technical service in case of technical faults. Mr. Krivokapic pointed out that this is exactly what helped Dipos survive the competition among 1,100 registered real estate agencies in Serbia, plus many individuals who deal with real estate. "Dipos" also manages several architectural pearls. One of them is Škarka's villa, in 14 Deligradska street. It was the home of engineer Richard Škarka, director of the branch of the Prague Credit Bank in Belgrade. It was designed by the famous architect Dragiša Brašovan. In 1927, it received an award for one of the most beautiful facades in Belgrade.
Škarka's villa, which is used by the Embassy of the Republic of Belarus
Diplomatic colony in Dedinje
It was originally built for the needs of accommodation and residence of foreign diplomats and representatives of foreign countries during the First Summit of the Non-Aligned Movement, which was held in Belgrade back in 1961.
The diplomatic colony in Dedinje is a green oasis of this part of the city. Its total area is about 4 ha, most of which are landscaped green areas and a park. In this relaxing and harmonious ambience are located 26 villas, among which today are three business buildings of the company "Dipos" d.o.o. White City.
Living and working in the Diplomatic Colony in Dedinje abounds in many advantages. Some of the benefits that the inhabitants of the Colony have at their disposal, and which are taken care of by the Dipos company, are: 24-hour video surveillance, physical and technical security of facilities, cleaning, maintenance of green areas and parks, exterior landscaping and 24-hour emergency service. Then, the Colony has its own heating station, which is completely independent of other city heating plants through which all the buildings in the colony are supplied with thermal energy.
The diplomatic colony in Dedinje, although built 50 or more years ago, still represents one of the most exclusive locations for living and working in Belgrade, an intimate ambient whole of cosmopolitan spirit, an oasis of peace and greenery.